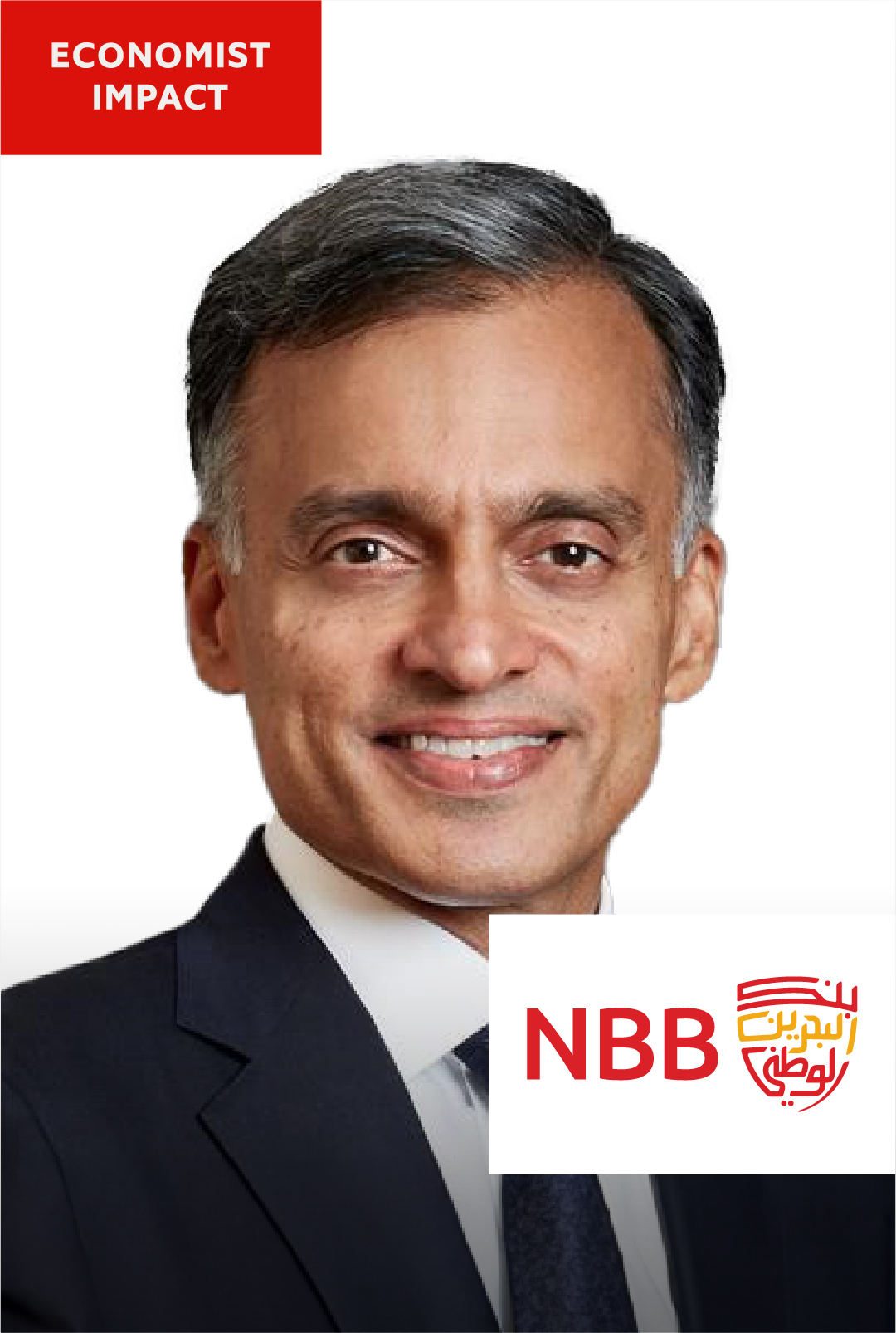 Group Chief Executive Officer
Usman Ahmed
National Bank of Bahrain
Usman is the Group Chief Executive Officer of the National Bank of Bahrain and the Vice Chairman of Bahrain Islamic Bank. He has over 28 years of diverse international banking experience across the EMEA and Asia regions, of which for the last 15 years he has held various senior leadership roles as CEO, Managing Director, Board Member or Executive Chairman. Usman's experience spans across firm-wide leadership, Corporate & Investment Banking, Capital Markets, Commercial, Consumer and Islamic Banking in London, Hong Kong, Dubai, Malaysia, Philippines, Pakistan and Bahrain.

Prior to his current role, he was the CEO and an Executive Board Director of Citi Malaysia, leading over 5,200 employees. Usman was also the Executive Chairman of Citigroup Global Markets Malaysia and concurrently responsible for the Citi Solutions Centres hubs for AML, Securities Services and Cash & Trade operations, covering over 50 countries across the globe.

Usman has also been the CEO of Citi Bahrain, Kuwait and Qatar, while concurrently being the Global Head of Citi Islamic Banking.

As the Chief Operating Officer for Citi Asia's Corporate Bank in Hong Kong and the Corporate and Investment Banking Head for Citi in the Philippines, Usman was extensively involved in leading strategy and client coverage in Asia after the global financial crisis.

While at Barclays Bank Plc. Usman led the Corporate, Commercial Banking and Transaction Banking businesses for the Emerging Markets region, with responsibility for 14 countries in the MENA, Sub-Saharan Africa and South Asia regions.

As part of his Capital Markets Origination responsibility in Citi London, Usman has originated, structured and executed some of the largest and most innovative conventional and Islamic financing transactions for the Middle East region. He was also designated as a Senior Credit Officer of Citi for over 9 years.

Usman has served on the Boards of the Asian Institute of Chartered Bankers, the American Chambers of Commerce in Malaysia & Bahrain, the Association of Banks Malaysia, Financial Industries Collective Outreach Malaysia, Bahrain Institute of Banking & Finance, Bahrain International School Association and Injaz Bahrain.
Information