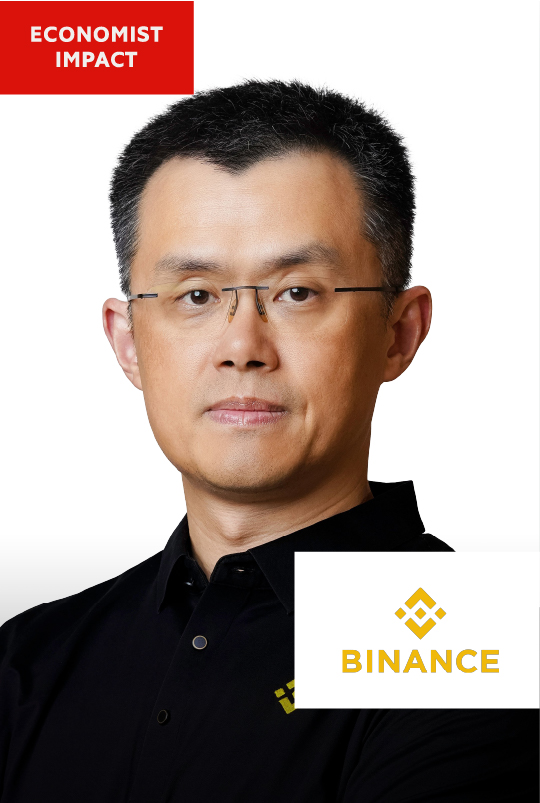 Founder & CEO
Changpeng Zhao (CZ)
Binance
Changpeng Zhao, known as CZ, is a pioneer within the blockchain industry with his
contributions to Web3 as the CEO and co-founder of Binance — the world's leading blockchain
ecosystem, which includes the largest digital-asset exchange by trading volume.CZ launched Binance in July 2017 as a cryptocurrency exchange driven by a vision of providing a simple, usable platform for people to trade digital assets such as Bitcoin and Ethereum. Within 180 days of launch, CZ had built Binance into the largest digital asset exchange in the world by trading volume. Five years later, driven by a deep focus on meeting the needs of users, the platform remains number one, processing tens of billions of dollars in transactions per day.

Over the years, CZ's leadership has helped Binance grow into more than a trading platform.
Today, the exchange is just one part of the company's growing product suite, which includes
initiatives such as:
Binance Labs — an accelerator that incubates and invests in blockchain projects.
Binance Pay — a contactless, borderless and secure crypto payment technology.
Binance Academy — an open-access learning hub providing free blockchain education.
Binance NFT Marketplace — a platform to create and trade digital art and collectibles.
Binance Charity — a not-for-profit foundation advancing blockchain-enabled giving.

CZ is passionate about accelerating the adoption of digital assets and blockchain technology, and is a frequent keynote speaker at major global tech conferences, such as Web Summit and VivaTech, as well as more blockchain-specific events, such as Consensus. As one of the industry's most prominent figures, CZ plays a key role in engaging with global governments and regulators to bring about greater mass adoption of the technology, as well as to advance the interests of wider society, and help citizens navigate the digital future. With over 8 million followers on Twitter, CZ is also admired for being one of the most approachable and frank leaders in the blockchain industry.
Information